Wimbledon 2023 Tennis Betting Guide For USA Players

When most sports fans discuss their betting action, it often centers around football, basketball or baseball. Even though we don't hear that much about betting on tennis, it is a very popular line of action throughout the tennis fan base. With Wimbledon being the creme de la creme of tennis tournaments, it is comprehensively covered at all of the leading online sportsbooks.
This page is specifically designed to provide insight into all aspects of Wimbledon, including your options for betting on this prestigious tennis tournament. We also look at how this beloved tournament got started, how it is structured, and what the legalities are surrounding Wimbledon betting action.
If you are ready to get your feet wet at one of the sportsbooks below, you may want to check out the targeted pages on our site for more insight into specific details about betting on tennis, including our guide on how to bet on tennis that goes into the differences between betting on tennis vs other sports; our guide to understanding tennis betting odds, and our helpful tennis betting tips page.
Best Site for Legally Betting on Wimbledon Tennis Tournament In 2023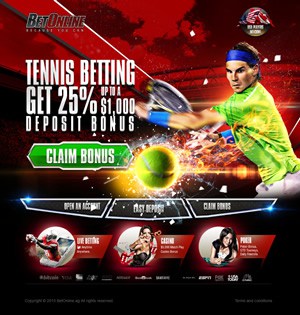 We recommend that Wimbledon fans visit Betonline Sportsbook when seeking competitive betting lines for this tournament. Their coverage of the event is great, and they offer lots of wagering options, including extras like prop bets and live in play betting options. At this sportsbook, you can bet on Wimbledon from your computer or by using their mobile app from your smartphone or tablet.
Their bonus offer is for all customers, new and return, and delivers a 25% match bonus up to $1000 on all deposits.
Top US Sportsbooks Offering Wimbledon Tennis Betting Odds In 2023
Is it Legal to Bet on the 2023 Wimbledon Tournament In The United States?
Betting on Wimbledon is perfectly legal as long as you follow specific criteria for selection the online destination at which you will bet. In fact, the website that you end up choosing definitely determines the legal status of your betting action, determining if you are participating in legal or illegal gambling activity.
In order to end up on the 'legal' side of the train tracks, you must be highly diligent in making sure that the online sportsbook you visit is legitimately licensed and regulated by a genuine governing authority, and that they hold compliance certifications for fair gaming practices and regulation compliance.
This rule holds true for both US and non-USA players as most regions consider it illegal to participate in any type of gambling that is licensed and unregulated. Where the line divides globally is in regards to regional laws governing gambling. There are not any US based online sports betting options available, however there are a number of trusted and high quality sportsbooks that are licensed and located offshore that welcome players from the US.
None of the US federal laws that are in effect prohibit US players from engaging in offshore sports betting as long as the destination is licensed and regulated.
The sites we feature in this guide that all meet the criteria as a legally sanctioned sportsbook for betting on Wimbledon and tournaments such as the US Open and the French Open.
Where Can USA Players Find Wimbledon Betting Lines
This is where our guide provides real value to tennis fans. We have exerted a great deal of effort and time in evaluation the various US friendly sportsbooks out there that cover Wimbledon. Every single brand you see listed on this page has been carefully vetted, verifying their legitimacy within the industry and credentials which demonstrate their commitment to providing a safe, secure and legal betting environment.
We also review the quality of their services, how competitive their lines and odds are, and how well their banking suite supports US players. Our team of analysts is made up of longtime gambling enthusiasts who are experienced in the industry as gamblers and industry consultants. We must caution you that by considering doing business at an online sportsbook that has not been vetted by industry professionals is more of a gamble than you may realize.
Savvy web design can easily create an environment that 'appears' legitimate, but is actually an unlicensed and unregulated trap of horrors. One of the driving forces of this guide is to assist players in avoiding this type of scenario.
About Wimbledon Tennis Tournament Championship
Known as The Wimbledon Championships, or just Wimbledon, this is a very old and prestigious tennis tournament that is perhaps the most famous throughout the world. Even ESPN's main network carries every match of Wimbledon play, and winning the big trophy as a singles player is the pinnacle of a player's career.
It takes place on a hard court in London, during late June and early July, and the weather acting as a factor always makes the tournament that much more exciting for the public at large. It also makes it tougher to bet on, which could be a thorn in the side to gamblers.
Structure of Wimbledon
Wimbledon, like most big championships, consists of a very large tournament of 128 men's singles, 128 women's singles, and also mixed doubles players. There are six total rounds of singles play, which provides plenty of gambling fodder for a hungry public. While the US Open is the oldest major championship in the world, Wimbledon is actually the oldest tournament.
A Brief History of Wimbledon
The first Wimbledon tournament was held at the All England Club in Wimbledon, London, and the first ever winner was Spencer Gore. Because Wimbledon's status as a posh tournament which invited royalty, it almost instantly became a classic tournament even though it would witness a few-years hold before being played again. Although the first Wimbledon was played in 1868, it wasn't until 1877 that the Wimbledon Championship became an inaugural tournament.
Due to its solid location in London, not much has changed about the tournament over the years. During the 21st century, Wimbledon started to pick up much more exposure as a world-class tournament, but in terms of court conditions, stadium, etc, not much has changed in a hundred years. In terms of singles play, William Renshaw, Pete Sampras and Roger Federer share the first-place record with seven titles a piece.
Big Upsets in Wimbledon
Wimbledon appeals to tennis fans as one of the oldest, classiest tournaments in professional tennis, but it also appeals to sports betters. Betting in Wimbledon brings in over a billion dollars annually for this two-week event, and like all great sporting events, there always seems to be a few upsets to keep things scary and exciting. So, before you place any bets on Wimbledon this year, you may want a refresher course about some of the big upsets that have taken place over time.
Nadal's First Round Defeat
After Roger Federer's decade-long stranglehold on tennis dominance, it was apparent that Rafael Nadal was the heir apparent to the throne. Every bit as good as Roger ever way, Nadal's brand of tennis is fast, exciting, and dominant. Rafael would never lose a first-round match to a weaker opponent. Or at least that's what the entire sporting world thought prior to Nada's first-round loss at the hands of Steve Darcis in straight sets.
Ashe Builds a Legacy
Arthur Ashe was also considered a great tennis player throughout the mid '70s, but in 1975, it was Jimmy Connors dominating the world. This is why Connors was a 3:20 favorite to win Wimbledon over Ashe, and a prohibited favorite to actually win in straight sets. Ashe, however, had other plans, and he defeated Connos in four sets, for his first ever Wimbledon win. As a number-six seed, there were a lot of light wallets after this match.
Sharapova Out in Round Two
Back when Anna Kournikova was the most famous tennis player due to her looks, a young Maria Sharapova became famous by stating that she didn't want to be remembered for her looks. She wanted to be famous due to her tennis. Maria blazed up the charts after that, winning big and having a spectacular year in 2013. Until she got to Wimbledon, that is. She was the favorite to win it all, but she ran up against Michelle Larcher de Brito in the second round, ranked #131 in the world, and lost the match 6-3, 6-4.
Before you bet on Wimbledon, remember that upsets are always part of the game. Betting on tennis is risky, and it should always be handled responsibly.
Resources for Wimbledon Fans