Interpreting The 2023 Tennis Betting Odds And Which Wagers Are The Best

Watching tennis matches on television or attending them live isn't a large event like the Super Bowl or the NBA Finals, but in terms of pure betting numbers, billions of dollars are exchanged every year due to tennis, and most of that money happens with the big open tournaments, such as Wimbledon, the US Open and the French Open. For right now, let's speak a little about betting odds as they relate to tennis.
When you look at a NFL betting line, for instance, it's fairly easy to figure out. You have the point spread (e.g. -3/+3), you have the over-under (e.g. 36), and you have a basic moneyline (e.g. Raiders +130). With tennis, the lines are a little bit different and thus you may need a quick crash course to understand them properly.
Don't worry, though; they're definitely not rocket science. If you have ever gambled on sports before, then understanding a tennis betting line will be a piece of cake.
Best Site for Legally Betting on Tennis In The United States In 2023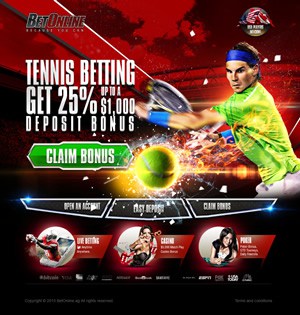 Betonline Sportsbook offers very competitive tennis betting odds that are very comparable with the Vegas bookmakers. Due to their reliable odds and great range of betting lines and wagering options, we easily recommend them as the top rated legal tennis betting site for both US and non-USA players.
We love their live tennis betting features and their mobile betting options as well. New and return customers are eligible for their generous bonus offer of a 25% match bonus up to $1000.
Top US Sportsbooks Offering Tennis Betting In 2023
Understanding Tennis Betting Lines
There are two main lines to focus on with tennis betting: match odds and in-play odds. For the first, match odds, you're looking at a basic line that predicts the winner. For instance, let's say Roger Federer is playing an un-ranked player in the first round of Wimbledon. The odds may be high in Federer's favor, and he will likely to be favored in win in straight sets (3), with perhaps even a spread of, say, -2 per set.
So, if Federer wins 6-2, 6-3, 6-3, he has covered every set. The tricky part in understanding this basic line is that it may change per in-play odds. For instance, let's say Federer is playing a tougher opponent, like Nadal. In this instance, Roger may actually be the underdog, with Nadal favored to win.
But, for instance, let's say Federer wins the first set 6-3; in the next set, those odds may shift more in Federer's favor. Paying attention to the in-play odds allows you to adjust your bet based on player momentum.
Understanding these odds will go a long way to helping you greatly leverage your bets to limit your risks while increasing your potential for profits. Suffice to say that the only real way to become accustomed to these types of betting structures is to view them in live-time via a reputable sports book. We can provide a solid outline, but the learning part is on your shoulders.
Odds Betting and Prop Wagers
As illustrated above, the odds betting aspect of tennis is subject to change via in-play, live-time betting options. As the odds change, you will be given a chance to place different wagers. You cannot remove old wagers, but you can leverage them based on the new odds. You can also earn leverage by placing proposition bets, known as prop bets.
For example, you may find bets to do with the number of aces served in a match, or a number of unforced errors in a single game. You may even find heads-up wagers with people willing to bet who will scream at the officials first. There are all sorts of prop bets you can find via most sportsbooks; just make sure you take the time to learn the terrain.
The natural next step before you dive in is to check out our tennis betting tips and take a look at our guide on how to bet on tennis.