Live Tennis Betting Guide For 2023

As discussed previously on our resource site here, tennis betting is a different animal than some forms of sports betting. For instance, did you know that you're not locked in when you bet on tennis, and that you can actually place different bets during the course of a match? This isn't an option that's often afforded to people betting on football.
Sure, you might find live-time betting that allows you to bet on a half-specific O/U or point spread, but with tennis we're talking about a large series of bets that you can put down in live-time, from prop bets to winners and losers of a match - yes, even after that match starts. You can learn more about the details in our guide covering how to bet on tennis.
In-Play Odds And How They Work
Live tennis betting is known more accurately as in-play tennis betting, and it's essentially the act of betting via an ongoing match. Before we break into how live betting works in tennis, let's first discuss how to properly find reputable sportsbooks with which to bet. You will also want to take a look at other nuances in tennis betting, including how to interpret tennis betting odds. Our page offering helpful tennis betting tips may also come in handy for both newbies and experienced bettors.
Now, our resource here at legal tennis betting is always a good starting point. We work hard and research a lot of material to provide you with information about current gambling restrictions and other legislation, work a rounds for betting on sports legally, and a lot of user-friendly tips to use when betting on your favorite sport. But we can't exactly tell you at which site(s) to play. This is a call you're going to have to make on your own.
What we can help with is providing you with access to the industry's leading options, all of which have been carefully reviewed and evaluated by our team of professional bettors and analysts. In addition, we are registered customers at each site we recommend on this page, so we put our money where our mouth is.
Also, before making a final decision about where to bet, take some time to prowl around all the different gambling features to see if a site is offering you the kind of options you would like when sports betting.
For instance, check out their live betting options. Many sportsbooks are going to offer live betting, but make sure they have a thorough section for in-play tennis betting, if that's what you're after. You don't want to deposit your money and get locked into a site only to find out that they're not offering anything good for you to bet on.
Best Site for Legally Betting on Tennis In The United States In 2023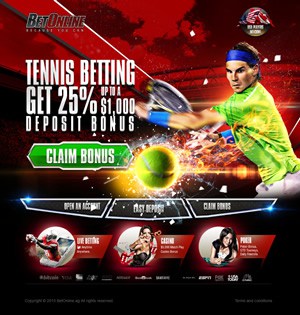 Betonline Sportsbook is our top recommendation for sports fans who enjoy in play tennis betting, also known as live tennis betting. They incorporate live betting features into their online site and their mobile application, so you can enjoy the live, in play excitement no matter where you are.
They offer new players a great welcome bonus of 25% up to $1000 on not just your first deposit, but every deposit thereafter. You will find comprehensive coverage of all sports as well as competitive odds.
Top US Sportsbooks For 2023 Offering Live In-Game Tennis Betting Odds
How Live In-Play Betting Works With Online Sports Wagering
Once you break it down, live betting is just how it sounds. It's basically the act of placing bets in live-time, as the match is still being played. It can be particularly exciting when enjoying the big tournaments such as Wimbledon, the US Open or the French Open, among others. So, returning to our example of John Doe vs. Joe Smith, let's say that Joe and John's match has started, and you put down $20 on John to win before the match.
However, after the first set, you see that Joe has won. Now, this means that John's odds are even longer, and that Joe's odds are improved. So, with in-play betting, you can do a few things to leverage your bets here. If you still think John will win, you have longer odds and thus a bigger payday looming if you want to put another $20 down. Unfortunately, you're locked into the odds that were posted at the time of your bet, but thankfully you can change and leverage if you want.
Conversely, if you want to hedge, you can go bet money on Joe. Although the odds aren't as good, and the payoff will be less than doubled, you can still hedge here to come up a winner, if you think that John is done for and that Joe is just too much of a match for John to contend with. For example, you could put down another $50 on Joe to win $40, which would leave you up $20 on the match minus the $20 you initially put on John.
Now, this isn't any record-breaking payday. You're not paying your home off with this type of win. However, it is an example of how you can leverage live betting to your advantage. When you place a bet and things are looking bleak for your odds of winning, you can actually use the in-play options to leverage and to win some money back.
Be careful in doing this, however. Using the Joe V John example, don't go crazy betting on the Joe side of the action just because he won the first set. If you spread yourself too thinly with large bets, and then Joe loses the next two sets, you may be tempted to place an even larger bet back on John to cover your losses and to win. Then, if Joe happens to win out, you've lost more than triple the amount of money from your original bet.
So, if you're smart and bet small, you can leverage the in-play structure to your advantage. But if you're just chasing bets based on which player has the hot hand, you could end up well over your head and ultimately lose a lot of money! Live betting is fun, and it gives you a lot more options, but it can also bury you if you're not careful.
Is Live Tennis Betting For You?
Of course, there is a question of whether or not you should use the in-play betting options on a sportsbook. Do you think it's the right move for you? Well, we'll try to help you out with your decision in this regard. Basically, most who bet on sports can fit one of two categories. They're either chasers, which means they put down however much money they need to in order to cover potential losses. Or they're increment gamblers, which means they place smaller bets on better odds in order to minimize risk while reaping rewards.
Although the rewards are much smaller, the potential for losing is also much smaller. There are also times where live betting is available for NCAA tennis for you college sports fans
We recommend that chasers stay away from in-play betting. Using the Joe V John example above, there is just far too much risk involved with chasers looking to place larger and larger bets as the match goes on. Chasers will ultimately up their bet with each new bet, in order to cover any potential losses from previous bets.
This can easily equate to the snowball effect, and what started out as a $20 wager could cost you up in the range of $200 or more. And Pete forbid you're starting with $200. You could end up betting thousands. Now, this is a great payday if you win. But it's crippling and life-changing should you end up losing.
We don't run a casino. We don't have a sportsbook. We're simply a resource for you to use for legal, responsible sports betting. As such, we truly hope that you're going the incremental route with your in-play betting. Using $40 to cover a bad $20, when the odds are firmly in your favor, is a far cry from using $400 to cover up a bad $200, which was used to cover a bad $100, and so on.
There's no strict science to betting. At the end of the day, it's still about chance. However, there are many ways by which you can work smart and small to leverage your bets to put the odds firmly in your favor.
You might not get rich with huge paydays by playing in increments, but you will also never suffer a loss in the hundreds or thousands. By being a smart, stable increment gambler, you can slowly but surely build a nest egg in your account, and every bet you ever place on a sporting match hence will be with your profits, meaning you'll never have to go back into your wallet to have some fun. It's not going to buy you that sports car, but it will keep you from losing one as well.
Please, be responsible with betting in general, and particularity with in-play live betting in tennis. Use the tips and the advice offered here to make smart bets on matches where you have the odds in your favor. Take things one match at a time and always avoid chasing. Act responsibly, and you may just be rewarded.